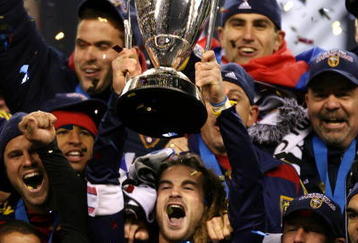 I waited until Friday to write about the MLS Cup Final because I was sort of disappointed by the way the game unfolded. Now, don't get me wrong, I have nothing but respect for Jason Kreis and his squad and I must admit they were the better team last Sunday night. But, the game was very unsatisfying for several reasons. For instance…
Landon Donovan scared US soccer fans silly by again choking when it mattered most. While his assist to Magee was all fine and good, it would have been abhorrent for him to have messed up that pass. The rest of his performance ranged from ineffective to flat-out lazy. Plus, he didn't just Baggio the PK, he sent it into orbit. Then, he fell back on excuses.
He wasn't the only one making excuses though. So was Commish Don Garber who – after an unfortunate shouting match with a reporter earlier in the week – felt the need to shoot down those who said RSL (who was a sub .500 team during the season) didn't deserve to make it to the Big Dance. Instead, Garber should have just said "no comment."
Like many soccer fans, I also felt ending the game arbitrarily with PKs ruined its competitive merit. I know ending games with PKs is approved even by FIFA for major tournaments, but come on. It is akin to deciding the World Series based on a Homerun Derby, or ending the Super Bowl with a battle of kickers. It isn't soccer, and I will never recant.
I walked away from the game feeling sorry for Bruce Arena. He almost established himself as the greatest MLS manager ever, but instead he fell short against another man who may one day own that title. I also felt sorry for Foudy, who had to put up with Lalas and Harkes all week when she is actually the best announcer of the three.
I was happy about some things though. The Seattle fans were spectacular. Kyle Beckerman is a vet who deserved to hoist the league's biggest hardware. Same goes for Rimando and Williams. I really liked what I saw out of Robbie Findley, and I hope Bob Bradley did too. All in all, the game wasn't great, but the season was a success.
While it probably would have been better for the league if the Gals won it all, I can't complain about the Cinderella story that I watched unfold. I am also betting real US soccer fans feel the same way I do. It was a good year and an unbelievable finish. Almost as unbelievable as the fact I have made it all the way through this post without mentioning Beckham.
Damn!