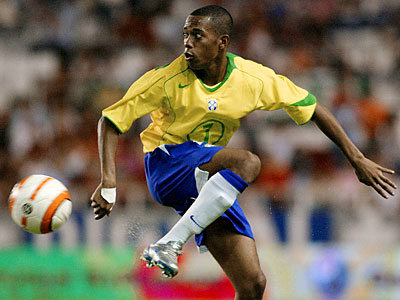 The transfer window is slowly approaching.  It is still months away from when it officially opens for business, but do not  be confused…  transfers are already being worked out.  How do I know this?  Because it is the nature of modern day sport.
Every day of the year is considered a chance to improve your squad in the modern day transfer market.  Even if it comes at a time that was never expected or to a team that was never considered an option.  In the modern day all of these issues can be erased by a simple handshake between two men. 
Take Robinho's career.  The guy has played in La Liga for a powerhouse once, but after only being used as a reserve he got his way and was out of the league and off of Real Madrid on the last available day before the window closed.  Now just two years later he is considering how he is going to get back into the league.
Barcelona and Real Madrid have become the greener side of the valley and many stars are beginning (or in Robinho's case) re-beginning to pilgrimage back to Spain.  Why you ask?  For the same thing that every villain in a Bond movie wants.  World domination.
Barcelona and Real Madrid have squads that have backups that could star for over half of the La Liga teams.  Now cap strapped squads like Atletico Madrid look to deal players like Forlan making that gap only more apparent.  If trends continue the way they are then pretty soon Barcelona and Real Madrid will have no one left to beat.  But for now adding a player like Robinho will only help the powerhouse squads and losing a player like Forlan will only sink another.