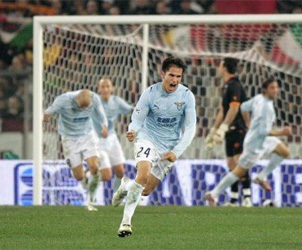 After only 8 weeks of league action, lets take a look at what Serie A teams are currently off to a surprising start to their 2010/2011 campaign:
Lazio:Nobody thought that Lazio would be in first place this season including their coach Edy Raja. But since the squad has taken advantage of a fairly easy start to the season they are in the driver's seat and hoping to earn at least top six results from the early success. Lazio is a young squad that will likely suffer a cold streak at some point this season, but with no critical matches coming up in the next three or four weeks the success may continue for a bit.  
Chievo Verona:Five years removed from their fourth place finish in 2005, Chievo Verona hasn't experienced much success since those days and even suffered relegation and promotion during the stretch. This season they currently sit in fourth place on the league table which is ten spots ahead of their finish last season and twelve ahead of the previous year (14th, 16th). And with three winnable matches coming up (Bari, Parma, Fiorentina) Chievo Verona could make a serious run at a top six finish. 
Brescia:The last time Brescia played on the top tier was 2004/1005 and that was a brief experience with only one season and a 19th place finish before relegation back down to Serie B. This year Brescia hope to stay around longer then that and so far this season they have proven to be worthy of the chance with 13th place results and a near .500 record of 3-5 on the season. They are the only squad yet to draw a match and they only have one player that has scored more then one goal this season.
http://www.comparestoreprices.co.uk/images/unbranded/s/unbranded-ss-lazio-fc–lazio–udinese.jpg