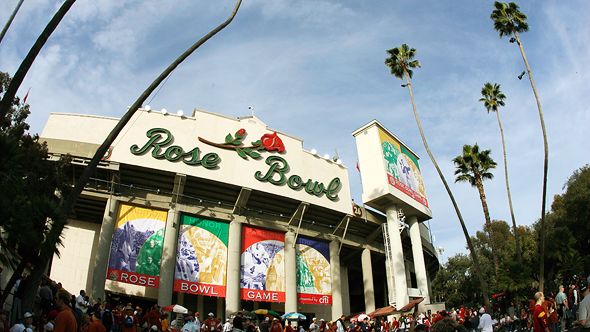 In Pasadena, California, there is a monstrous stadium that seats more than 90,000 spectators: the Rose Bowl. Built in 1922, the stadium is, of course, most famous for hosting the annual Rose Bowl Game on New Years Day between college football powerhouses. But it also has hosted five Super Bowls and several events during the 1932 and 1984 Olympics.
Prior to the construction of the HDC, the Galaxy played their home matches at the Bowl. But, it's not the Gals that make the Rose Bowl the most historic soccer site in US history. No, it's the fact that the Rose Bowl is only one of two stadiums in the world (with Rasunda Stadium in Sweden being the other) to host both a Men's and Women's World Cup Final.
The 1994 Men's World Cup Final between Italy and Brazil was one of the greatest games ever played and it ended dramatically on a Roberto Baggio penalty miss. The 1999 Women's World Cup was even more thrilling, especially for US fans, as Brandi Chastain secured the US victory over China with her successful PK.
That 1999 Women's World Cup Final was the highest attended match in women's sports history (over 90,000 fans). It signaled the end of a long era when women were excluded from participating in sports at the highest levels. As the Rose Bowl was the site of US soccer's greatest victory, it gets the number one spot on my list.
I hope you all have enjoyed this series on America's most historic soccer sites, and if I omitted any legendary site, let me hear about it in the comments.