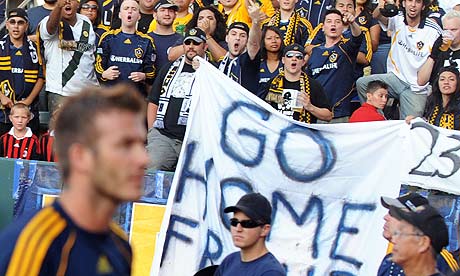 Background: You knew I couldn't resist, didn't you? I have not hesitated to criticize MLS, Becks, the Gals, and Alexi Lalas in the past. The Beckham Experiment has failed. The hypothesis was gravely flawed. The fallout will be crushing. MLS always said they would be different than the NASL. They would be about teams, not star players. They lied.
Becks came, he saw, and now he will soon go. Good riddance. Has he looked better this year? Sure. But then again, he hasn't been around all that long. He wants to leave, so I say let him go. I have no idea if Capello will select him for S. Africa in 2010. I hope he does in some sick way.
Career: You see, I used to love Beckham before he came to the States and sullied the image of my local league. He had a heroic career with Man U. He did some decent things for Real when he was healthy too. While he has failed to deliver trophies for England, he has been fun to watch. He's still a good player too (at least from a set piece). I kid. The guy can play.
Dishonors: But, Becks' indecision about his future a few years ago has now caused our MLS much chagrin. When it looked like his 2010 dreams would end up nightmares, he went to LA, met his Maverick, and prepared to geriatically move around US pitches. But, Capello brought him back. Now he thinks 2010 is a possibility. He has changed his mind.
Legacy: Beckham's legacy is still undecided. If he leaves for good, he will be remembered as the Brit who could sell soccer to everyone in the world, except the Yanks. If he sticks around or if he leaves and then comes back and plays well, he could repair his image with American fans. But, I find myself wishing him ill because I believe his attitude is obscenely condescending to the American game, so I will probably not change my mind. I wish Becks had done the same instead of sacrificing his promise to the fans (and MLS suits) for his own personal desire to play in 2010 for England. He has never cared about the Galaxy or the MLS. All he has cared about is David Beckham.
Well, and maybe that guy who played Maverick…