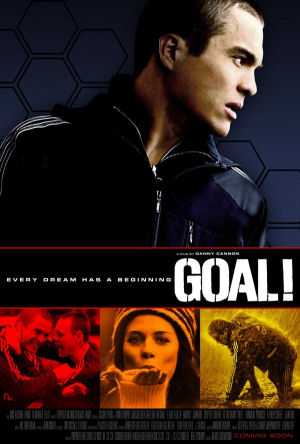 The Goal Trilogy will consist of three films: Goal: The Dream Begins (2005), Goal II: Living the Dream (2007), and Goal III, which will be released in 2009. The series has been made with FIFA's cooperation, so the films feature actual teams and a slew of famous players, including David Beckham, Zinedine Zidane, Ronaldhino, Alan Shearer, and Steven Gerrard.
The films trace the meteoric rise through the soccer ranks of Santiago, a Mexican American gardener. In the first installment, he is noticed by a Newcastle scout and, against his father's wishes, makes it to a tryout across the pond thanks to his grandmother's generosity. He eventually overcomes many obstacles to make the first team.
Before Newcastle's final game with Liverpool, his father dies, but he chooses to play in the match rather than return for the funeral. In the match, he assists the equalizer before notching the game winner on a free kick. In the beginning of the second film, Santiago is dealt to Real Madrid. He starts out well, but quickly begins to self-destruct.
He eventually is arrested for striking a photographer and his personal life implodes. He manages to get his life back on track though and scores in the Champions League Final, which Real wins on a David Beckham free kick (which underlies the fact this is fictional film). The second film features even more soccer stars than the first.
Goal III is scheduled to come out next month. In that film, Santiago plays in the 2006 World Cup for Mexico (geez, even in the movies the US can't get people to choose their national team). I'm betting he helps them win it too (the producers have never worried about actual history when it comes to the plot). All in all, I'll probably watch it, but just because I have already seen the other two.
If you have not seen these films yet, I would recommend you not waste your time. The first two were excrutiatingly predictable and I am surprised someone in Hollywood would even put up the big bucks to get these films made. Plus, the dialogue sounds stilted and employs far too many cliches. In their defense though, the cinematography of the soccer scenes is pretty good. Check them out if they're on TV, but I wouldn't recommend ponying up any of your hard earned cash to rent them.