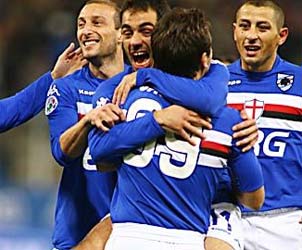 Another week of Italian football is in the books and this week saw many of the top teams remain on top and many of the bottom dwellers remain in the abyss.  But without further adieu lets take a look at last weeks action.
Sampdoria has been one of the most consistent clubs in all of Serie A this season.  Cassano's squad would blow out Bologna last weekend winning 4-1 over the reeling squad.  Sampdoria is currently in second place.  Inter, the first place squad, did not look as overpowering as Sampdoria this weekend, but they did manage to beat Catania 2-1 at home.  Fiorentina, who was in fourth place going into the weekend, couldn't handle Napoli.  Napoli upset the powerhouse 1-0.
AS Roma's hot streak ended last weekend with a loss to AC Milan and this weekend the Totti's squad continued to struggle with a loss to lowly new boys Livorno.  Atalanta has turned it around recently.  The squad just won their first match of the season a few weeks back and against fifth place Parma the relegation zone squad would double that total.  Atalanta wins 3-1.  Bari continued to show fans of the most beautiful game their excellent defense.  They shutout Lazio 2-0 at home.  Palermo was able to edge out Udinese 1-0 at home as well.
As for the final three matches: Siena was shutout at home against Juventus proving once again that Buffon is  a madman,  Ac Milan kept the unbeaten streak alive with a 2-1 victory over Chievo Verona on the road, and Cagliari defeated Genoa 3-2 thanks to a winner in the 87th minute.