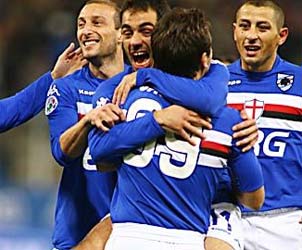 Sampdoria had one of the most impressive starts to the season of any Italian squad.  The middle of the pack team from last season jumped up the board to start off the yeat and looked to be a top squad for good.  And they further proved this theory to be correct when they hosted Inter on September 26th and handed the returning champs one of their only losses they will likely accumulate all season long. 
But since that 1-0 victory over Inter, Sampdoria has sputtered over the last six matches.  The most obvious problem Cassano and Company has had is finding the back of the net over the near winless stretch.  Sampdoria has only scored more then one goal in one match out of the six and the squad has also only won a single match over the month and a half time-span.  Cassano himself only has one goal this season and none over the current goal scoring draught. 
In fact Sampdoria has only achieved six total points in the six matches played since September and their goal differential over the stretch is currently at -3.  One thing that didn't help this statistic was the 5-1 routing the club received from Juventus, but with only one victory against lowly Bologna Sampdoria has not come through with the results needed to remain a top five squad for good.  Lazio, Bari, and Cagliari all either achieved a draw against Sampdoria or a victory.  If Sampdoria wants to hang with Juventus and Fiorentina then they need to begin beating the struggling teams when given the opportunity.