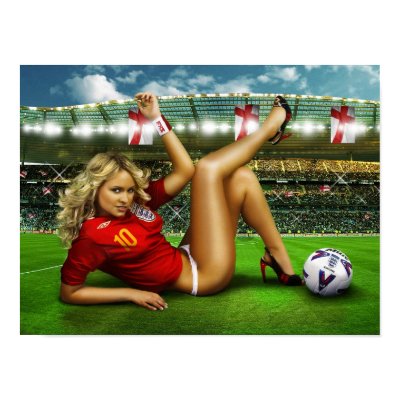 LeBron James and Shaquille O'Neal are two of America's most beloved basketball stars. They have both seemingly permeated our culture with their huge personalities and enormous athletic talent. Although King James has yet to hoist any significant hardware, Shaq has won several titles. Both have proven themselves to be at the top of their chosen profession though. But, what if instead of b-ball, they had chosen soccer, a game with a different net?
LeBron certainly has the size (6'8″ and 250 lbs) to be an imposing soccer defender. Although his 4.8 speed would probably limit his contribution to the offensive attack, I could see him posted up as a CB, a la Vidic or Onyewu. Since he is even bigger than Gooch though (and can jump way higher), I imagine no one could get their head on a cross if LeBron were in the box. Moreover, LeBron's lightning quick agility would probably render some strikers suicidal.
Shaq, on the other hand, could not be employed anywhere on the pitch. No, his 7'1″ height and massive 325 lb frame probably would not be well-suited to a field position. And, as we all know, Shaq can't shoot worth a damn. But, can you imagine Shaq between the posts? His size 23 feet could likely boom the ball downfield with the proper coaching. Although he can't sprint very quickly, he does possess explosive agility. He would be a brick wall in the net for the US.
Both men currently ply their trade for the Cleveland Cavs, although Shaq has been hampered by the injury bug. Both could really make the US Nats opponents steamed too, as they would help keep our sheets clean (ironic given the title of this post). I also think they would have been great leaders for the team, especially the Big Aristotle. But, when you are born with humongous height in the US, you play "roundball", and not the one where you can't use your hands.
Hey, both involve dribbling though, right? Anyways, please come back tomorrow when I wrap up this series for now. I know, I know, what will you do without your daily dose of Duchovny (that's what she said)? I imagine you will be fine. While Dave can help get ladies in the mood (he plays a guy named Hank Moody on TV, after all), only you can close the deal. I've got to run now, but enjoy the pic of Duchovny at left. I know I won't though. In fact, I don't think I will ever drink tea again.