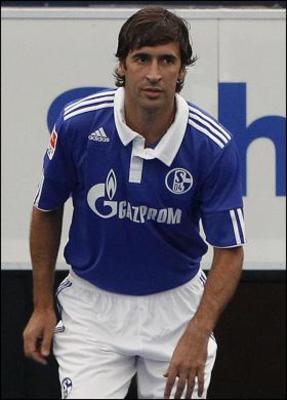 He's one of the greatest La Liga goal scorers in the history of the league, but so far Raul has struggled with his new Bundesliga side.
The famous former Real Madrid man moved over to Schalke this off season and he has yet to discover his classic form for the German club. The Spaniard only has one goal to his name so far in the first month's league action and the club also has suffered to find positive results as a whole currently residing in the second to last spot on the league table and only one victory at home.
And considering Schalke made some aggressive off season moves in the signings of AC Milan's Klaas-Jan Huntelaar, Raul, and Jose Manuel Jurado, the side was hoping to compete for the league title.
But Raul isn't ready to throw in the towel and the consistent performer for Madrid stressed the teams need to "gel" before the great success happens, but the forward did seem optimistic about his struggling side's chances this season:
The season has only just begun. There are still three possible titles up for grabs. However, we now want to take each game as it comes. A new team takes time to come to terms with the new system and to gel.
And although Real Madrid has started off the season just fine in Champions League play, they could have used the experienced forward with their own recent offensive woes, but it appears Los Blancos are slowly beginning to find their form and hopefully Raul and his new club can do the same.
http://cdn.bleacherreport.net/images_root/slides/photos/000/354/923/raul-schalke_1094439a_display_image.jpg?1282505057