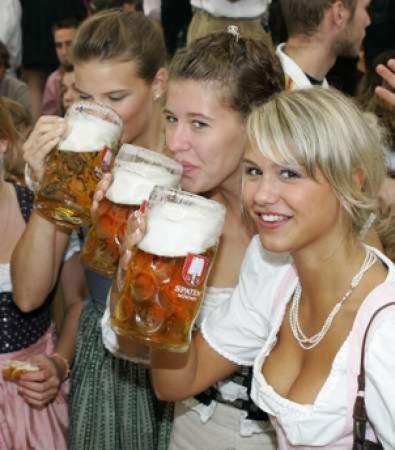 Why am I writing a post about Octoberfest in early September? Because I love Octoberfest, but I hate it's name. Its moniker inherently limits the celebration to only 31 days. I think it should be known as Everydayfest or at least Fallfest. But Octoberfest it is, and it's a great month. Soccer is in full swing around the globe. The beer flows like wine and the women flock to leiderhosen (sp?) like the salmon of Capastrano. I guess it couldn't last all year. Why?
We would never get anything done. Ever. Also, holidays (even month long ones) would not be as coveted if they were Everydayfests. That is why things like Octoberfest are so beloved, and why so many folks who are not even German feel the need to tip a pint or two (dozen) during October. Of course, even the "real" Octoberfest in Munich is only 16 days, which is probably for the best. I went to Munich once. Drank at the Hofbrauhaus. I'm not welcome back. Ever.
I'll tell you this one thing though: it was worth it. Definitely.
Anyhow, I am (luckily) still allowed back into my living room to watch some fabulous soccer this October, including several World Cup Qualifiers. While "last call" may come a little earlier @ my house than it will in Munich, I still plan to catch some of the best games of the month on TV.
Drink them in next month and savor their flavor. As for me, I will be celebrating my German roots by imbibing all this month and next. I actually do have a little German in me.
You have a dirty mind.