MLS POWER RANKINGS (06/03):
Chicago Fire [last week 1]:  No game, no move. The best get to rest and the lesser squads of MLS get a brief respite from getting burned by the Fire.
New England Revolution [last week 3]: That was some gritty stuff coming back from the 2-0 deficit. Taylor Twellman? Who needs 'em when you got Dube!
Columbus Crew [last week 2]: A disappointing loss for sure. The offense looks like it has slowed since its early spurt. Schmid needs Schelotto to find more space.
Toronto FC [last week 5]: I would have laughed if you told me TFC would be #4 in Week 10. Then again, their schedule has certainly been home heavy so far.
Los Angeles Galaxy [last week 4]: Nobody plays well in the confines of BMO. But of course, the Galaxy will never play well without Becks & Donovan.
New York Red Bulls [last week 6]: NYRB has wasted its hot start and can't get anything going offensively. They are getting outmuscled by weaker squads.
Kansas City [last week 7]: No game, no move. What a weird schedule for KCW. Hopefully, the Jimmy and the rest of the Wiz put the week off to good use.
Colorado Rapids [last week 8]: To be the best, you have to want it more than everyone else. The Rapids wanted it more than Dallas, and McManus proved it.
Chivas USA [last week 10]: Guzan lives! Enjoy the shutout (which haven't been as plentiful as last season). Two early strikes is all it took for Preki's pals.
Houston Dynamo [last week 11]: Houston, we have a pulse. The Dynamo played like last year's tough-as-nails squad and secured a classic HOU 1-0 victory.
Real Salt Lake [last week 12]: RSL has to enjoy blowing out another squad. Sure, it was the worst team in the league, but I'm betting RSL fans will take it.
FC Dallas [last week 9]:  Oduro is the only one attacking the net and the defense continues to cede late goals. The new coach's roster is a revolving door. Uh-oh… 
DC United [last week 13]: DCU showed in the first 60 minutes against NER they still had the talent to be a top team. Then, in the last 30, they showed why they don't. No fitness.
San Jose Earthquakes [last week 14]: I told you it would be a long year. Is there no one that can save SJE's season? Well, maybe. Brian McBride is available.
Player of the Week: Kheli Dube. I have to say, Dube's receipt of this week's honor has nothing to do with the vulgar, racist language he was taunted with in Columbus last week. Rather, he earns the hardware strictly based on his on-the-field pursuits.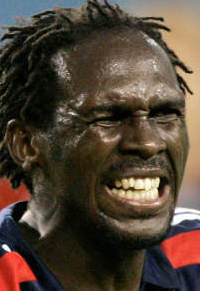 He set up the Rev's first goal and scored the second, and all game he was their offensive focal point. Dube was the center of controversy and could have let distraction detrimentally affect his game. Instead, he played like a champion and forced his team into a draw when most teams would have laid down for a loss. Congratulations, sir. Both on your play, and the way you have conducted yourself in the midst of a MLS debacle.