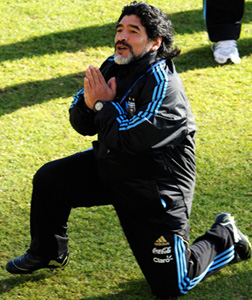 Legendary former Serie A footballer Diego Maradona wants his old coaching post back with his homeland of Argentina and the controversal former manager of the team even admitted that he would replace several assistant coaches in order to receive it.
Maradona, who refused to consider firing his assistants this summer following the end of the Cup said:
I'd give my life to be the national team coach. I'm dying to be with the team. I am thirsty for revenge.
And the proclamation will at least make for some more interesting news coming out of Argentina's camp. Sergio Batista, the team's current caretaker, managed the national team to a successful friendly victory over Spain last month and has been guaranteed to remain manager for at least the end of the calender year.
Maradona, on the other hand, grudgingly walked away from the position this summer when the Argentine soccer federation claimed that he would have to change some of his tactical ways and replace some of the coaches on his staff. Maradona claimed that the federation had lied to him and promised him full control following the Cup and the Hand of God man even accused the many of the federations key members of working in the shadows to replace him.
The federation claimed that Maradona had misunderstood the arranged deal and were forced to replace him due to his refusal to negotiate the terms of the position. Now months later it appears the indecisive coach wants the position back. I think Maradona's desire to take the job back is a classic example of why Maradona should not have the position.
The coach is always wavering about what to do, he is way too emotionally attached to the position, and he has already burned way too many bridges. Maradona may have been one of the greatest players of all time, but he is certainly not one of the world's best coaches.
http://img.slate.com/media/1/123125/123037/2240711/2255595/100616_SNUT_maradonaTN.jpg