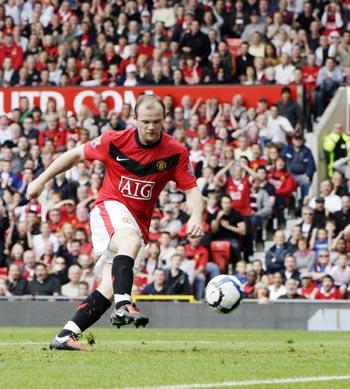 Real Madrid has often been linked to Manchester United forward Wayne Rooney for several obvious reasons.
First off, the club's president Florentino Perez is reportedly "obsessed" with the Englishman and has been known to covet other English stars in the past including the famous signing of David Beckham during his first stint as the club's president. Secondly, Cristiano Ronaldo enjoyed many successful seasons along side Rooney and the Portuguese star has expressed his thoughts that Rooney would be a "sensation" for los galicticos. Third, Jose Mourninho is a high profile manager and a close friend of Alex Ferguson's meaning perhaps Rooney would move from one legendary motivator to another. Mourinho certainly wouldn't mind considering he has often announced his desire for one more striker this season. And perhaps the final reason why Rooney is often linked to the club is simply because of the recent news of Rooney's private life coming unraveled.
If the star desired a clean break from England could any other club offer as much as Real Madrid could to  appease the player's current desires?
In reality though, as much as Rooney is respected by the organization he is still is not the perfect fit at the Bernabeu. The side recently sunk a great deal of money into the acquisition's of Ronaldo, Kaka, Benzema, Higuain and considering they also brought in Ozil, Di Maria and are rumored to be interested in Fernando Llorente, I'd say that the roster spot and funds for Rooney might not be available considering their great depth and money already invested.
On the other hand, this is the same club that attempted to land Didier Drogba this summer and were denied, so they obviously still desire to claim a few starting eleven caliber stars at the moment. Most of these listed players before could easily be transferred away if they were able to strike a deal with Manchester United, but it is with the English club that the real conflict is brought to attention for the Spanish giants.
Rooney may want to leave Old Trafford, but who says that the club will allow the Englishman to?