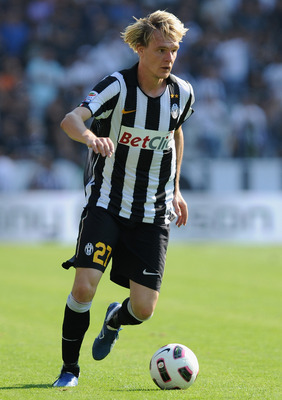 To those of you out there that still believe that video replay has no place in soccer, take this story as an example of how it has already been implemented into the sport.
Winger Milos Krasic of Juventus has been banned two Serie A matches for his part in a diving incident recently. Krasic went down on a controversial penalty in his side's 0-0 draw away at Bologna over the weekend and the referee obviously believed that Krasic was roughed up on the play awarded his Juve side the penalty rather then punishing Krasic for his role as a thespian.
Following the match video replay proved that Krasic was actually untouched on the dive and because of the ability to review such close encounters Krasic will be punished for his unfair play. The suspension couldn't have come at a worse time for the top four hopefuls considering that they will play second place AC Milan this upcoming Saturday in a home fixture and the club is expected to be without their leading scorer Krasic and also striker Amauri due to a right Achilles tendon injury that will sideline the star for at least ten days of action.
The injury blow and two match suspension will put Juventus in a tough position this upcoming weekend, but the side is appealing the Krasic ruling and hoping to have the winger suited up this weekend. But the diving incident will likely cost Krasic's side some potential points over the next few weeks considering the loss of Amauri as well.
http://cdn.bleacherreport.net/images_root/slides/photos/000/399/395/104077050_display_image.jpg?1284713653