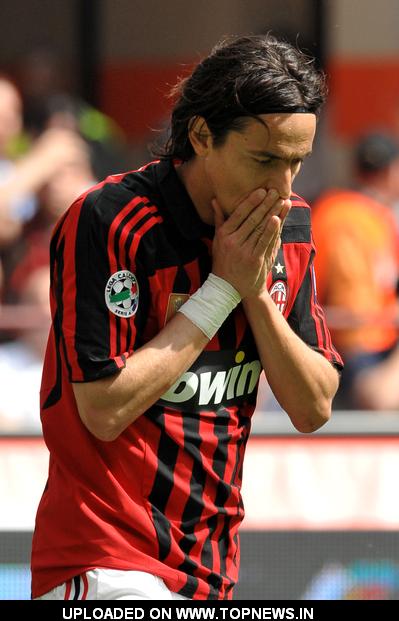 Filippo Inzaghi's season may have come to an end. The popular Italian striker and AC Milan forward should miss the rest of the year with ligament damage done to one of his knees during this Wednesday' 3-1 victory over Palermo. Inzaghi was injured on a challenge from Palermo defender Cesare Bovo and the severity of the injured knee will require surgery that is expected to be performed by the end of this week.
The news is especially disappointing to Inzaghi considering the 37 year old striker was just coming off one of his career best performances a week ago when his Milan side achieved a draw against Real Madrid in Champions League play. Inzaghi scored two goals in the match and received great praise from starting forward Zlatan Ibrahimovic who admitted that he preferred the Italian vet up top in the starting XI rather than the Brazilians.
But it appears that this injury will likely sideline Inzaghi for a minimum of 6 months and the aging forward made sure to notify his fans of his desire to continue playing and work past the setback. Inzaghi tweeted the following statement following the disappointing news:
I don't give up. I'm going to do everything I can—believe me—to avoid this being the end.
Inzaghi had just a week ago expressed interest in a transfer to a club where the forward would regularly start. It appears as if any January transfers are no longer an attainable option for the 37 year old, but hopefully the aging footballer can make it back for at least one more start in the San Siro before he hangs up the boots.