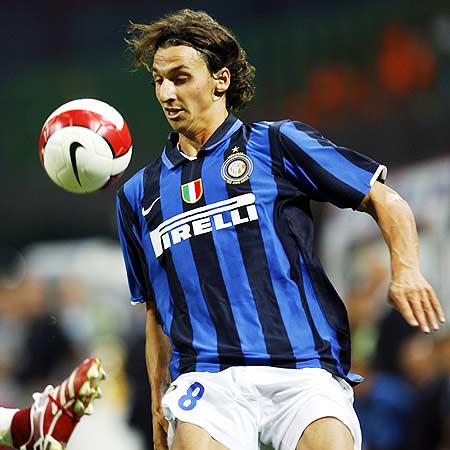 Zlatan Ibrahimovic proved to be an unstoppable force this year in Serie A competition. The Inter Milan forward was too much for his opponents to handle and he finished the season with a league high 23 goals. He also contributed to Milan's title-winning season by notching seven assists. All in all, he was simply the league's MVP.
Zlatan and his club cruised to a league best 25 wins. In addition, the team only lost 4 matches all season. When the season ended, Inter had a healthy ten point lead over their nearest rival, largely thanks to Ibrahimovic's play. Not only did ZI (as I call him) separate himself from his Serie A foes, but he also showed he was one of Europe's best.
His stats are the result of his perfect combination of size and speed. His 6'3″ frame makes him an easy target near the goal, but what really makes him special is his incredible finishing ability. In fact, some goals he scored this year seemed physically impossible. His game is "complete" and he can score from anywhere on the pitch at any time.
ZI has been in Serie A for five years, and he has 4 titles to show for it. So, it is clear that having ZI on your squad certainly doesn't hurt your chances of being named the best team in the league. Inter certainly didn't complain when ZI scored 6 goals in the season's last 6 games. At this rate, ZI will win ten titles by the end of his career.