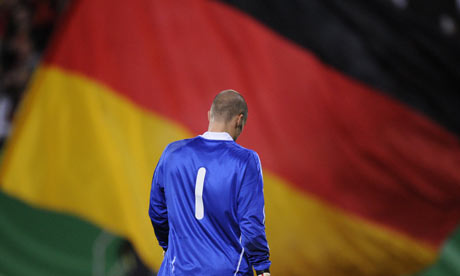 The German squad and the rest of the football world received some terrible news a week ago when one of the German national team keepers, Robert Enke, took his own life by walking along the train crossing near his home in Germany.  And the national team's weekend friendly against the Ivory Coast was cancelled out of respect for Enke and his grieving friends and family and was moved to last Wednesday instead.
The nation and the squad are obviously going through a very tough time right now and many players have expressed their shock at what took place.  But before the squad played their Wednesday fixture they released a letter regarding the incident and their fallen friend Robert Enke.   
Here is what the letter said:
Your death for us is still omnipresent.  It has made us all speechless, stunned, helpless. We were stunned when we got the unbearable news. We were not able to put our grief into words. We were not able to play football a few days later. We could not simply go about business as usual.

We all needed to realise this moment of calm in order to realise what has happened – to properly understand. Perhaps we never will. We have long sat together and thought of you. We have been silent together, cried together and searched for answers together, but in fact found only more questions – agonising questions of 'Why could not we help you? Why did you not want to talk to us about your problems? Why is it that, in our competitive society, it is not possible to express fears over such illnesses?

It is for all of us a painful thought that you felt so alone and in need, even if you were with us. For you there was so much more at stake than for any other of us. Your death is so bleak. But we will do everything we can to carry on in your memory, play good football to be successful. And we will do our best to ensure that stigma and prejudice have no place in football.
Robert Enke will be missed by both the people who personally knew him and loved him and by people who love the game of football everywhere in the world.  The keeper was laid to rest last Sunday and his hometown stadium in Hamburg hosted a memorial service for the national squad member which thousand of fans attended to pay their respect.  
La Liga has lost another great former player.
Robert Enke (24 August 1977 — 10 November 2009)