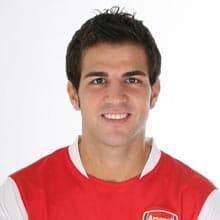 It's been no secret that Barcelona has been on the hunt to sign Arsenal captain Cesc Fabregas for some time now and although Arsene Wenge has repeatedly stated that the Gunners have no intentions to sell their star player, Barcelona president -Sandro Rosell – has went on to state that he is 'convinced' that Fabregas will be making his way to Camp Nou.
Although Cesc Fabregas already stated his desire in wanting to make his way back to Barcelona, where he started his youth career, and with the 29 million euro bid that was placed for Fabregas from Barcelona, it seems as if Arsenal still do not want to let go of their Captain as they went on to reject Barcelona's bid and nearly doubling the amount that Barcelona had offered.
However, Sandro Rosell feels that they still will be signing Fabregas at some point in the transfer window and went on to say the following :
"We are not under any sort of pressure at the moment. We have the whole summer to sort this deal out. I am convinced that Cesc will be our player by the start of next season. I know what happens in football and I will not be surprised to see stories of other clubs chasing him. But we are very calm because the key person in all of this is Cesc himself. The only way he will leave Arsenal is if he is joining Barcelona because of his roots."
Although no-one is sure how this situation is going to pan out, it seems that the only chances of Barcelona signing Fabregas is by spending a great amount of money of the midfielder.
If Barcelona somehow manage to sign Fabregas, he will be able to join some good friends of his as Xavi, Iniesta, new signing David Villa and other teammates from his Spain National team all await for his arrival.