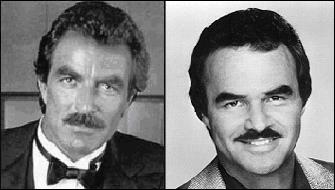 They say behind every great moustache is an even greater man and Burt Reynolds and Tom Selleck are certainly no exception to the rule.  Both men were outstanding athletes in their youth and both are well known for their profession as actors.  So which mustached leading man could portray a better MLS star?  Smokey & the Bandit or Magnum P.I.?
The STO Debates…
THE TALE OF THE TAPE
Burt Reynolds     Height: 5″11     Nickname: Buddy
Back in college Burt Reynolds played football at Florida State for Bobby Bowden proving that it is likely the time for the old coach to retire from the game for good.  And in his acting roles Burt Reynolds often played the sports star.  Films like The Longest Yard and Semi-Tough highlight this tough footballer role the actor was fond of playing.  Burt even has some coaching experience in more recent films like Mystery Alaska, Driven, and the remake of The Longest Yard.
Tom Selleck     Height: 6″3     Nickname: Mr. Baseball
Tom Selleck has been known to impress fans at the MLB All Star Game with his ability to go deep in celebrity softball games, but soccer is likely not his main sport either.  The Mr. Baseball star has proven before that adjusting to other countries culture isn't really his thing.  But one major advantage Mr. Selleck has over Mr. Reynolds is that when he goes for a header he doesn't have to worry about his hairpiece falling off.
The Result
The winner is Tom Selleck for three reasons.
First off, the guy needs the work.
Secondly, Burt is currently in rehab right now for an addiction to prescription pills.  We hear at the STO would like to wish the Cop and a Half star a safe and full recovery.  
And third, Tom already missed one chance of a lifetime to play Indiana Jones in the epic movie franchise thanks to conflicting shooting dates with Magnum P.I.  That terrible scenario would be like turning down an offer from Barcelona because the Tampa Bay Mutiny just signed you two hours before.