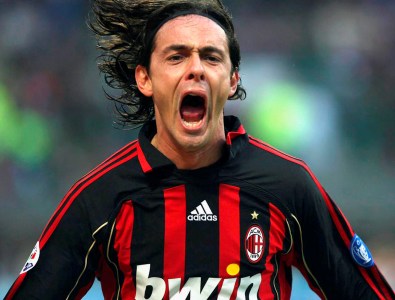 AC Milan brought in more big name stars than any other Serie A team this season. And possibly due to the arrivals of Zlatan Ibrahimovic and Robinho, they have created some riffs in the locker room due to having too many stars in one setting.
With so many reliable forwards somebody has to sit out of the match and rumors unsuprisingly have it that no one wants to be the guy that is rarily used on the bench. Ronaldinho was reportidely fuming about being left out of the Juventus match, even Pato isn't seeing regular minutes every single week, Robinho can say the same, and Fillipo Inzaghi just announced that he is interested in offers to leave the San Siro.
The 37 year old, who lost regular minutes this season due to the arrival of Ibrahimovic, wants to play regular minutes for a club and doesn't want to be "employed only in moments of despair":  
I still want to be important. I have received two offers and I am happy that someone is still looking at me. I don't want to be employed only in moments of despair, but let's see in two months. I have an incredible affection for Milan but I still really want to play and I feel good.
Inzaghi's move in January is likely just wishful thinking for the forward. His value on the transfer market is significantly less then his actual value to his current club and depth will become very important to a club that hopes to win multiple trophies this season.
The club has even expressed that Inzaghi will not move this January as well, but perhaps the biggest reason why Inzaghi will remain is because Ibrahimovic of all people has spoken so highly of playing alongside the old man:
Pippo is incredible. He deserves to play more often because he is doing well, and when you play well, you should start. Plus, I feel more freedom when I play with him, whereas when I'm with the Brazilians, I'm forced to play inside the box.
It appears that their is a bit of a rivalry between Ibra and the Brazilian playmakers brewing at the San Siro and Pippo might be the one forward that suits Ibrahimovic more then any other. Either way, Inzaghi can consider all the moves he wants to, but it will not actually mean that he will. Because his club knows he is too valuable to be allowed to leave, so he will stay along with everybody else at the San Siro. 
http://www.uksoccershop.com/images/search_options_images/player_72_filippo%20Inzaghi.jpg