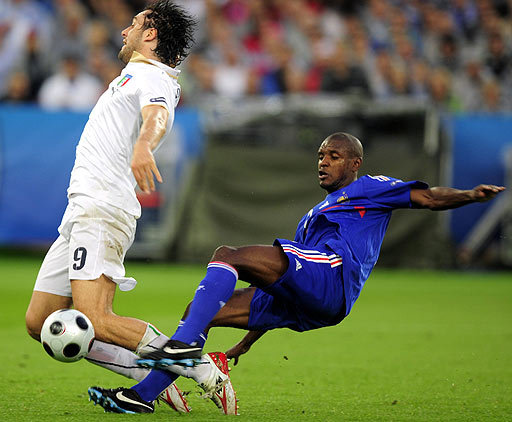 Spurned French national team defender Eric Abidal no longer.
Abidal is reportedly being invited back to the national team and the Barcelona defensive back is expected to play in next week's upcoming friendly for Les Blues against England. Abidal was one of the footballers accused of insubordination this summer when France's team refused to participate in practice following the expulsion of Nikolas Anelka from the FFF's camp.
Abidal was forced to go in front of the FFF's disciplinary committee and explain his role in the fiasco, but following his meeting the Barcelona man was one of the few targeted French footballers that received no punishment at all for his role in the negative World Cup. Anelka obviously received the stiffest penalty of any player with an 18 game suspension and several other players were punished as well including Franc Ribery and Patrice Evra, but not Abidal.    
New manager Laurent Blanc broke the news of activating the defender in a press conference on Wednesday:  
Eric Abidal has been selected as a left back. He played good matches with Barcelona, we went there to see him. He still can bid for a starting spot at left back.
And obviously any player that can regularly start for Barcelona should be able to start for just about any national team in the entire world. And France has recently been stuck in a situation where they desire to punish certain talented players, but realize that they can give away too much by ignoring the best talent available for too long.
Abidal may have had a terrible Cup on the pitch and off of it, but overall he is still one of the best talents in France on defense and deserves the second chance to make things right with Les Blues.