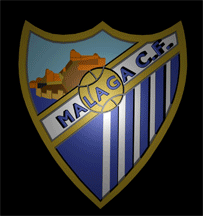 Malaga Club de Futbol is the proud winners of this years LLTO trophy for the Best New Club in Spanish football.  And let me tell you, it wasn't even close this year.  Malaga was not only the best new club added to the Primera Division, they were the 8th best club overall in La Liga. 
Malaga was able to out due Sporting Gijon this season who was also new to Primera Division competition.  Sporting Gijon finished the year in 14th place, where as the third club promoted from 2007/2008, Numancia, was relegated back to the Segunda Division with a 19th place finish.  By year's end Malaga not only avoided relegation, they nearly finished the year with a UEFA qualifier for next year. 
Malaga is not a club that is fresh to the top tier of Spanish football.  The club has played more on the top level then any other in their history.  So they adjusted well to the high level of competition this season after a brief spell in the second league.  Before a dismal 2006/2007 campaign, Malaga was often a middle-of-the-pack squad that usually finished around 10th place. 
Malaga can thank their offense for their success this season.  The club did not rely on any one man for goals and  got a consistent effort from everyone.  The club scored 55 goals this year which was only 3 goals less then last year in the Segunda Division in which the Boquerones played more matches against weaker competition.  With their positive season behind them, the Boquerones will look to improve next year and become a top six finisher.